A four (4) channel oscilloscope is a useful tool for visualizing multiple signals at the same time. For instance you may want to monitor signal integrity on multiple data lines and the clock signal at the same time. A four channel oscilloscope is an invaluable tool that can increase your productivity in R&D, product development and test. We have done the detailed research and found that the Siglent SDS1104X-E is the best four channel oscilloscope followed by the Rigol DS1054Z.
Selecting an oscilloscope requires a lot of research. It's a detailed process where many different factors including specifications, reliability, usability and price should be considered. We have done the research and compiled a list of the best 4 channel oscilloscopes for you after a thorough investigation of available options.
Now without further ado let's get into the details.
Competitive Analysis of 4 Channel Oscilloscopes
In the table below, we show you how our oscilloscope picks compare
The Detailed Review
This 100 MHz digital oscilloscope is a high-quality 4 channel instrument with good performance specifications and a record length of 14 Mpts. It has a total of four 100 MHz channels and sample rate of 1 GSa/sec. The FFT function is also available with the standard decoder of IIC, SPI, UART/RS232, CAN and LIN. This scope has vertical input range of 500 uV/div, 400,000 frames/sec waveform capture rate with high sensitivity and excellent signal fidelity. It also supports multiple triggering modes. Additionally this scope comes with optional 16 digital channel logic analyzer.
This option of a mixed signal oscilloscope is enabled by SLA1016 logic probe hardware which gives combined functionality for time correlated views between digital and analog channel. This makes debugging embedded designs faster and more efficient by making it easier to visualize digital waveforms. This scope can be configured with complex triggers based on both analog and digital characteristics.
This popular 4 channel oscilloscope has lower system noise relative to similar products available in market and excellent signal visualization thanks to its new generation Super-Phosphor scope technology. This oscilloscope has many advanced features at an economical price point like searching and navigating, on-screen bode plot, and an embedded application to allow remote control via a web browser. This rich feature set makes the Siglent SDS1104X-E a very popular 4-channel oscilloscope on the market today.
PROS
User friendly scope with lower system noise than other similar products
Many features at an affordable cost
CONS
Separate control for each channel is not available.
Noisy fan
USER REVIEWS
With a rating of 4.8 out of 5, the large majority of customers are happy with the performance of the Siglent SDS1104X-E. When compared with the Rigol scope, the remote access features of this scope are really useful and the built-in webserver features quick updates. This in turn enables full-screen viewing of signals on a PC at a fast update rate. A LAN connection is included and easy to set up.
The only user complaints are in connection with the noisy internal fan and the absence of a real-time clock which means that signals are not time stamped in a convenient manner.
We picked the Rigol DS1054Z as runner-up due to availability of many advanced features at an affordable price. It comes with many compelling features like 4 channels, 50 MHz bandwidth which is extensible to 100 MHz bandwidth via a software key, and maximum waveform capture rate of up to 30,000 waveforms/second (wfms/sec). It also features large memory depth of 24 Mpts, sampling rate of 1 GSa/s and a rise time of 1.4 ns.
Additionally, the DS1054Z also has multiple triggering modes with extremely good quality and construction. It's comparable to oscilloscopes from expensive top brands like Keysight. The 7 inch TFT display is large enough to clearly display all signals at a single time.
The DS1054Z comes with 16 channel logic analyzer to debug complex digital systems. The combined functionality enables time correlated views between digital and analog channel and speedy debug of embedded designs. Rigol DS1054Z features a variety of math functions with real-time waveform records. The availability of multiple advanced features like serial triggering options for high speed signal analysis, debug of I2C, SPI, RS232 designs, and many others to easily measure signals at such a low price makes it the best budget pick.
PROS
Long record length of 24 Mpts for identifying problems in complex digital streams.
Intensity graded display available to observe events that occur frequently over time
Large 7" screen.
High sample rate of 1 GSa/s for providing high resolution capture.
CONS
The fan noise can be disturbing.
All four channels share the same vertical settings control.
USER REVIEWS
With a rating of 4.8 out of 5, a majority of customers are satisfied with the performance of the Rigol DS1054Z oscilloscope. However there are a few customer complaints around software usability and bugs. For instance a customer was unable to use the oscilloscope over a network on a PC. The software that enables this – called UltraScope and Ultra Sigma have not been updated. Additionally there are UI bugs and issues with usability that frustrated some users.
We have selected this handheld scope meter as the most versatile pick in the list due to its combined capability of digital oscilloscope with the versatility of digital multimeter. You can view electrical signals in multimeter mode for measuring voltage, frequency, duty cycle, and power. This handheld scope meter oscilloscope comes with 200 MHz bandwidth, 4 channels, and 1.7 ns rise time. This scope meter test tool combines capabilities of digital oscilloscope with a digital multi meter to make it the most versatile pick in the list.
Additionally, the portable handheld form factor means that unlike the DS1054Z and SDS1104X-E bench scopes, you can take the FLUKE-190-204/AM out into the field to make measurements. You can also use it to make measurements in your lab as the specs are competitive with those of a bench top instrument. The record length is 10,000 points per channel. Not as long when compared with the other scopes, this severely limits the ability of the instrument to capture signals for deeper and more detailed analysis.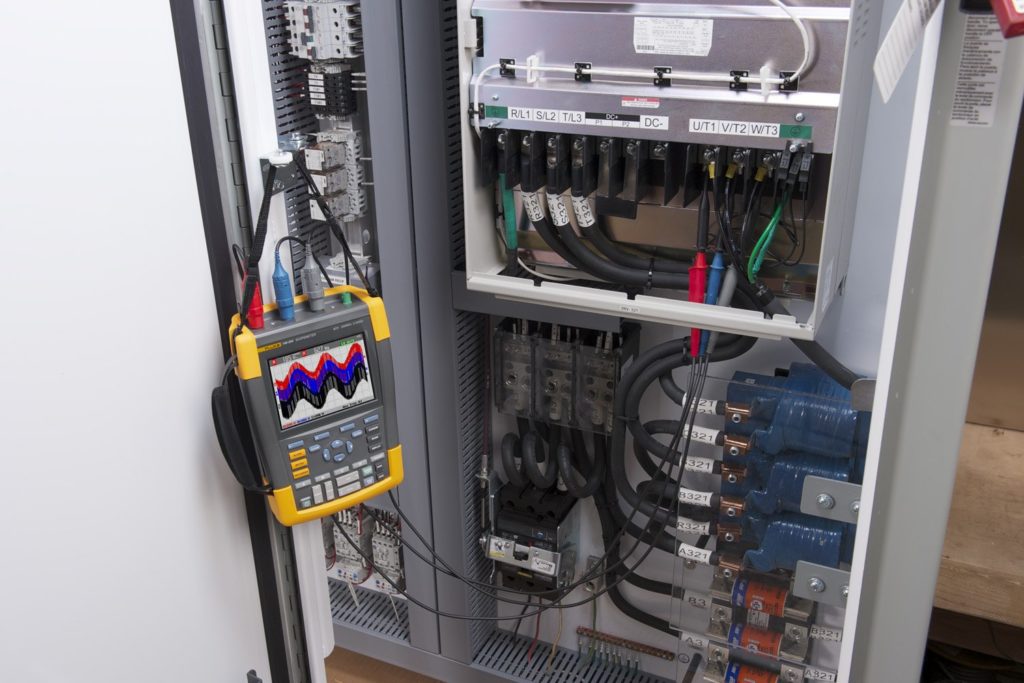 This is a high-quality instrument with a high sample rate of 1.25GS/sec for 100MHz models and 2.5Gs/sec for 200 MHz models. The zoom function is also available with three math functions plus FFT and automatic, cursor measurements for analyzing waveforms. The 6" LCD shows 4 readings simultaneously. The only downside is the relatively high price tag.
PROS
A versatile product that combines the functionality of an oscilloscope with measurements of a multimeter.
Portability
CONS
USER REVIEWS
The portability of this oscilloscope means that you can take this to the field for troubleshooting exercises. However the integration of advance capability in the FLUKE-190-204/AM does result in a higher price point and some customers feel that for the high price tag, Fluke could have done better with the feature set. The performance is satisfactory for most users. However there have been complaints about the poor screen resolution which results in thick, aliased traces with inaccurate cursor measurement. The other complaint is that considering the high price tag, there should not be an additional charge for software to run the device in conjunction with a PC.
Buyer's Guide
We have listed the top criteria used for selecting best four channel oscilloscopes:
Bandwidth: This is an important parameter that defines a range of frequencies which an oscilloscope can measure. The bandwidth should be five times higher than the maximum frequency of signals for an accurate representation of the signal waveform. In the case of a 100 MHz oscilloscope then, the maximum frequency of a square wave that can be reliably measured is 20 MHz.
Cost: Price is an essential consideration relative to the performance of any equipment.
Sample rate: High sample rate ensures greater resolution of the waveform which helps in providing an accurate representation of faster signals. High quality and details are important consideration aspects for troubleshooting the electronic equipment.
Memory-depth: Higher memory depth helps to store, display and analyze a wider time frame of the signal. The greater the length of a record, the more detailed your records will be.
Advanced features: Availability of advanced features like FFT function, and intensity graded display are important considerations
Customer Support: Another top consideration is the quality of the customer support experience. You want to ensure that the company you're buying from is quick to respond to reported issues, questions and concerns.
Frequently asked questions
When do you need a four channel oscilloscope?
In many situations you may find yourself wanting to monitor multiple signal lines on a circuit board for instance. One such situation is when debugging SPI interface. The SPI interface consists of Chip Select, Clock and two data lines as shown below.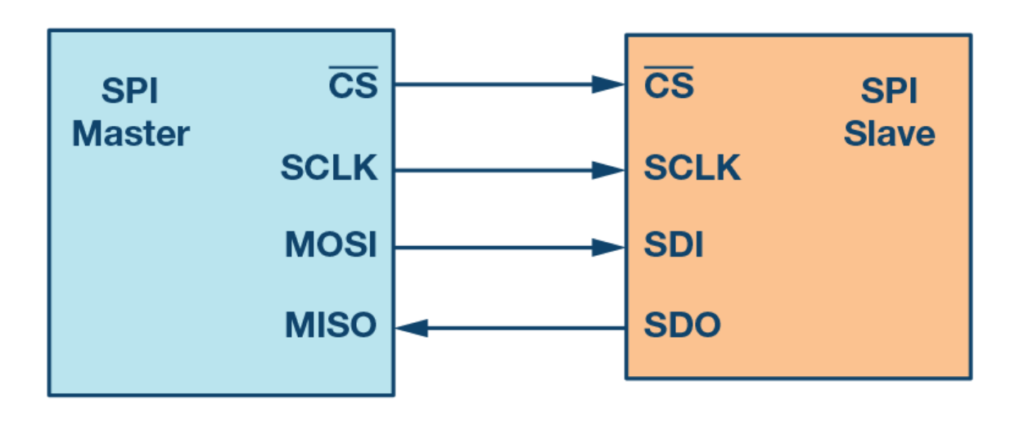 A four channel oscilloscope is required for monitoring all four lines at the same time. Many issues can be solved with the use of a logic analyzer. But in situations where you need to ensure signal integrity and measure the analog signal, a multi-channel oscilloscope becomes necessary.
Summary
In this article we reviewed the best four-channel oscilloscopes available in the market. We used a specific set of criteria for selecting the best oscilloscope like cost, bandwidth, record length, and many more. As a recap here is the list of top four channel oscilloscopes: